Page 1
back to mainsite
Faiths Copeland
Spanish Paintings
---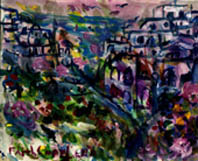 1 Pink Hillside
This is a watercolor from Mojacar in Andalusia with the almond trees in bloom.in the province of Almeria , north of Malaga,located on a hill overlooking the sea.It is Moorish. Last February I spent a month at "Valparaiso " a foundation for artists , writers and musicians ,where they can find peace to work. and beauty to inspire them!And I certainly did!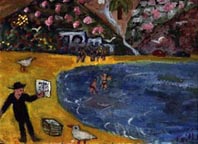 2 The Poet at the Beach
This painting is inspired by the Icelandic poet,writer and comic,Hallgrimur Helgason, who was staying at the Foundation at the same time, he was awfully good at reading up. I was quite mesmerized by him a was everyone there.He was constantly dressed in black and wore a hat!In the painting he has an interested listener at his feet ,one who only understands Spanish but is never the less quite impressed.!